In the contemporary digital landscape, Lumicom strides forward as a pioneer in providing innovative and stable meeting room technology solutions, ensuring your video conferencing rooms are not only equipped with cutting-edge technology but also offer seamless integration and management. Our smart meeting room solutions, compatible with Zoom, Microsoft Teams, and Webex, are designed to enhance your video conferencing room experiences, ensuring they are smooth, efficient, and productive.
Seamless Video Conferencing Room Solutions
Our video conferencing room solutions are crafted to ensure that your meeting room technology is robust, user-friendly, and enhances your meeting experiences. With Lumicom, your conference room technology is not just about facilitating meetings but ensuring they are immersive, interactive, and efficient, enhancing productivity and collaboration across your teams.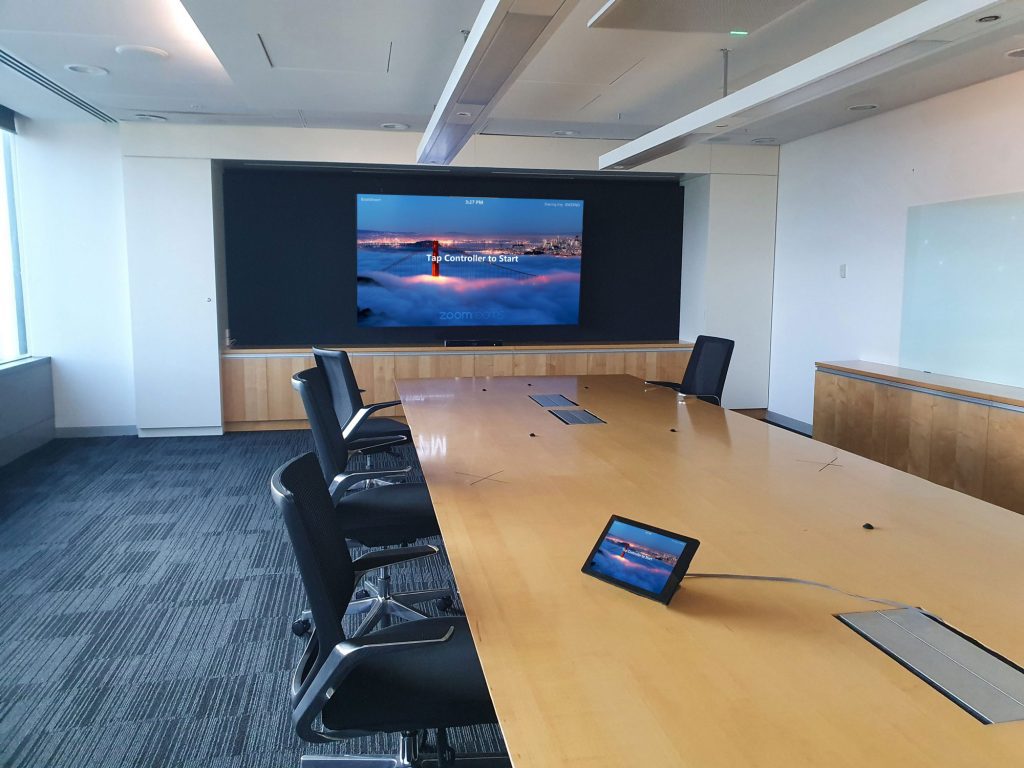 Zoom, Teams, and Beyond: Tailored Meeting Room Solutions
Whether it's a Zoom room, Teams room, or any other platform, our meeting room technology is tailored to meet your specific needs. From Zoom conference room setup to Microsoft Teams conference room equipment, Lumicom ensures that your video conferencing equipment and setup are tailored to your platform of choice, ensuring compatibility, reliability, and ease of use.
The Nodel 10" Touch Screen
Nodel: The Heart of Your Smart Meeting Room
Utilise a single surface controller, the Nodel Touch Screen Systems are available in several sizes and are perfect to manage all AV devices such as the LCD, camera, and microphone, along with environmental controls like lighting, blinds, and air conditioning in your video conferencing room. Say goodbye to cumbersome AV touchscreens and Zoom Rooms controller app devices with our streamlined integration surface controller, ensuring your meeting room solutions are sleek, efficient, and easy to manage.
Control all audio and visual devices including the LCD, camera and microphone. We integrate with leading brands Video Conferencing products, including Poly, Shure and NEC.
Manage your environmental building controls such as lighting, blinds and air conditioning.
The Nodel software allows you to connect and control everything in your space for an effortless user experience. The streamlined native integration through the software, Nodel, allows you to avoid clunky AV touchscreens and Zoom Rooms controller app device.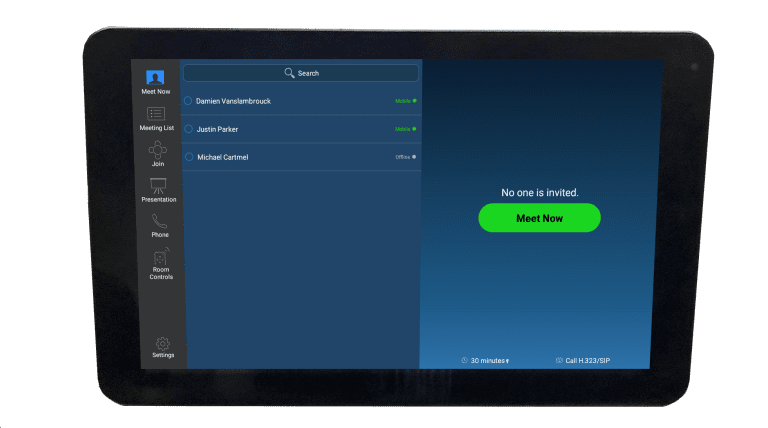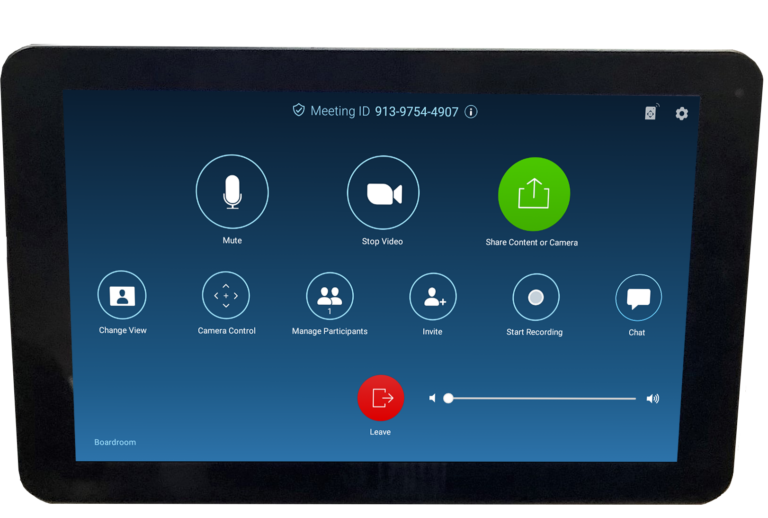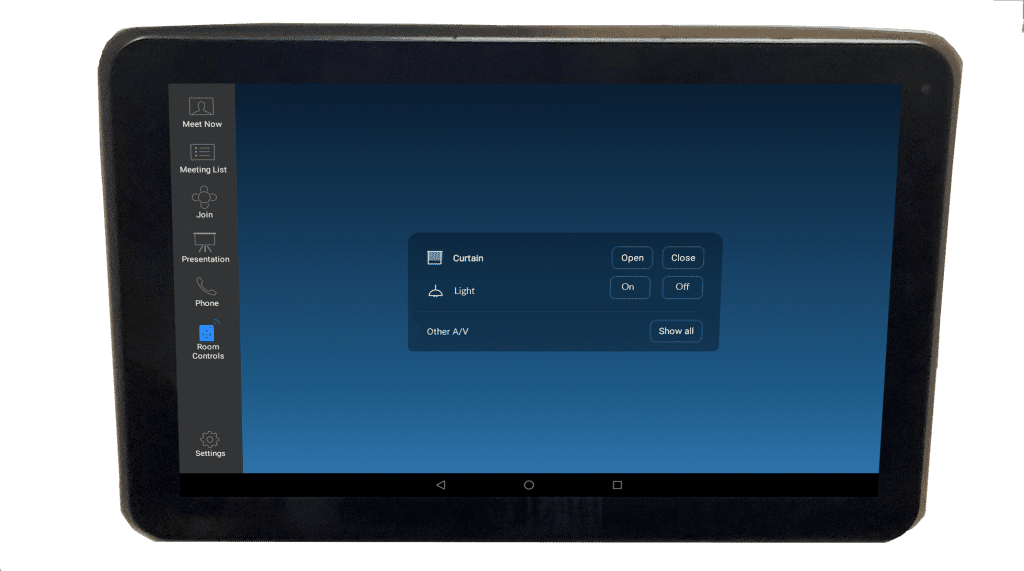 We never compromise on quality. We use the trusted brands Poly, NEC, Huddly, Shure and Nodel in our solutions. Our integration with these high quality products is what makes our Zoom solutions unique and robust. Make meetings more convenient with our solution.
Have a special meeting room integration requirement? Our experienced team can customise your package to suit your needs.
Our Portable Solution - Make your meetings more mobile
Our mobile solution offers a seamless and portable Video Conferencing experience. This convenient solution is completely battery powered. 
The portable solution is ideal for community centres, education facilities, hospitals and aged care centres. This mobile solution does not need to be connected to a power source.
Products include:
Nodel 10″ Touch screen controller (Wifi or 4G)
LCD Display
Trolley
Camera
Microphone
Assistance setting up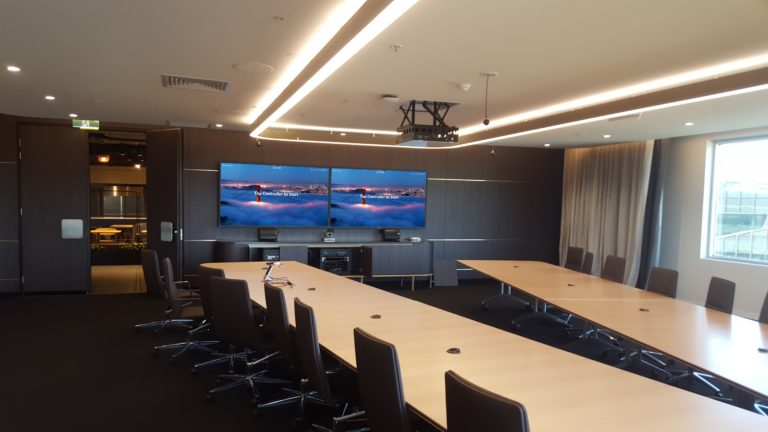 Your All-in-One Teams and Zoom Room Equipment Provider
From Zoom room hardware and Teams room devices to comprehensive Teams room kits and Zoom room devices, Lumicom is your all-in-one provider for all your video conferencing equipment needs. Our solutions ensure that whether it's a Zoom conference room or a Microsoft Teams room, your spaces are equipped with the best in video conferencing device technology, ensuring smooth, efficient, and productive meetings.
Let's Transform Your Spaces
Lumicom is here to be your partner in transforming your meeting spaces into technologically advanced, efficient, and productive environments. Our comprehensive video conferencing room and boardroom audio visual solutions are here to ensure that your meetings, presentations, and conferences are conducted with the utmost efficiency and clarity. Connect with us and let's explore how we can elevate your spaces with our cutting-edge meeting room technology.
Enquire About Your Video Conferencing Setup Today